WeBWorK Main Page
Jump to navigation
Jump to search
WeBWorK Documentation Wiki
Request Wiki Account
To join the Wiki request a Wiki account. Once your account is approved, you can contribute to the wiki and participate in the forums. If you haven't logged into the wiki in a while you may have to reset your password before you can use the forums.
This wiki is for instructors using WeBWorK on-line homework in their courses and for those working on the development of WeBWorK. Students using WeBWorK for their homework should not register on this site (unless they wish to help with writing development software). There is however some additional documentation for students. The course instructor can give students the URL for their WeBWorK course. Usually this is a path to a server on their campus.
What is WeBWorK?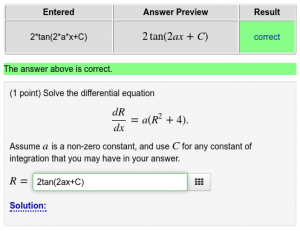 WeBWorK is a well-tested homework system for delivering individualized problems over the web. By providing students with immediate feedback as to the correctness of their answers, students can be encouraged to make multiple attempts until they succeed. With individualized problem sets, students can work together but will have to enter their own work to receive credit.

The instructors are provided with real-time statistics, resulting in lesson plans that can be customized to better serve students. As of June 2020 there were more than 1300 institutions using WeBWorK and the Open Problem library now has over 35,000 curated and indexed exercises. The majority of the institutions using this homework system are located in the USA, but many are located in Canada and Mexico, as well as in Europe, Asia, and Africa.
Open Source Collaborators
LibreTexts
Platform for the construction, customization, and dissemination of open educational resources (OER) with some WeBWorK utlization.

PreTeXt
An uncomplicated XML vocabulary for textbooks that can integrate WeBWorK problems.

Runestone
"Democratizing textbooks for the 21st century." An open source platform for interactive textbooks. WeBWorK hosting is available. (website)
Other WeBWorK hosting sites
Edfinity
A modern, hosted, NSF-supported, WeBWorK-compatible homework system trusted by 300+ institutions. (website)
Documentation
Authors
Want to write some problems?

Students
Support pages for students using WeBWork
Related WeBWorK support sites
Support
WeBWorK is partially supported by the DUE Division of NSF.