PREP 2011
Jump to navigation
Jump to search
Creating Effective Homework Sets with WeBWorK: Building National Problem Library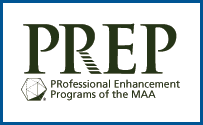 Jason Aubrey and Gavin LaRose
June 23 – 26, 2011
Washington, DC
Description of the Workshop
This summer the MAA is offering a WeBWorK PREP workshop which will focus on creating a collection of WeBWorK "model courses" for different undergraduate mathematics courses and improving the NPL.
The workshop is organized by Gavin LaRose (University of Michigan) and Jason Aubrey (University of Missouri). We will be assisted by the core members of the WeBWorK team and by a number of experienced WeBWorK users who will act as presenters and/or team leaders.
The workshop will have four online web conferences that precede a four-day face-to-face workshop held at the MAA's Carriage House. The web conference schedule and agendas are as follows (contact Jason for information about joining the conference):
Participants will be placed in teams according to their specific interests, and those teams will collaborate to create a broadly useful and appropriate library of problems and homework problem sets for different undergraduate mathematics courses.
After these four conferences, participants will meet for the
After the face-to-face workshop, we will have a follow-up web conference, and hope participants will continue their collaboration and use the problem sets they developed in a live course in Fall 2011. We expect to have additional follow-up web conferences in Fall 2011 to obtain feedback about the model courses and assess the success of the PREP workshop.
We hope to include users with a diverse range of experience with WeBWorK, from relative newcomers to experienced users.
The workshop will include activities to help participants develop the technical skills to create and identify high-quality WeBWorK problems that take full advantage of WeBWorK's extensive capabilities.
Additionally, as participants gain experience working with the NPL, the workshop will address the issue of how the NPL could be improved. We will seek to identify ways in which the NPL could be improved, and initiate the creation of assessment and development tools for the existing WeBWorK National Problem Library.
Logisitics
Registration Fee: $175 per person ($250 for registrations received after May 12, 2011)
Lodging for participants will be arranged by MAA at Carlyle Suites (carlylesuites.com), with check-in on Wednesday, June 22, and check-out on Sunday, June 26. Breakfast will be provided at the hotel Thursday-Sunday mornings.
Thursday-Saturday during the workshop, lunch will be provided at the Carriage House. Participants will be on their own for dinner Wednesday-Saturday, as well as lunch following the conclusion of the workshop on Sunday.