Difference between revisions of "Scoring"
Jump to navigation
Jump to search
Line 38:
Line 38:
 
 
 

[[Category:Scoring Tools]]

 

[[Category:Scoring Tools]]

 
+

[[Category:Instructors]]
---
Revision as of 22:57, 4 February 2011
Scoring Homework Sets
---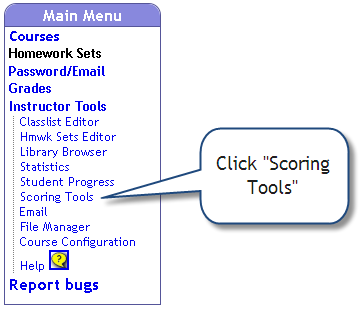 Use the Scoring Tools to export student's scores or performance data from WeBWork to a comma separated values (CSV) file. These files can then be
downloaded for use with a spreadsheet program, and
used within WeBWork to automatically send students personalized email to inform them of their scores and/or other scoring data.

To export homework set scoring data to a CSV file, do the following:
To score one set select it and press the Score Selected Set(s) button. To score multiple sets, highlight them and press the button; this will create a "totals" file which combines the scores from all of the sets to give final scores.
The options available function as follows: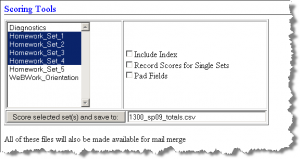 Pad Fields adds spaces within the fields of the scoring file. This displays nicely as HTML, but may cause trouble when importing the scoring file into a spreadsheet application. It is checked by default, and it is recommended that you un-check that option to produce a file for use in a spreadsheet application such as Open Office Calc or Excel.
Include Index adds a second column for each homework set; the second column reports the success index for the corresponding set for each student.
Record Scores for Single Sets creates the totals file, but also creates two additional files for each homework set selected:

s<SetName>scr.csv containing the status of each problem in the set for every student, and
s<SetName>ful.csv containing the information in the previous file and additionally the number of correct and incorrect attempts on each problem in the set for every student.
After clicking the Score Selected Set(s) button, the exported CSV file(s) will be available to download. A link to download each file will be available on the Scoring Tools page.
These scoring files, along with back-up copies of any older scoring files, are accessible from the File Manager.
Resource
Scoring Homework Sets - Using the Scoring Tools
This links to a publicly viewable Google Docs presentation which illustrates the actions outlined below. The slide show may be embedded in HTML pages and printed. You are welcome to use the slides in any way consistent with the GNU Free Documentation License under which all contributions to this wiki are licensed. Unfortunately, it is not possible to make the presentation publicly editable, but you are welcome to leave any comments or suggestions under the discussion tab for this page. By the way, you may wish to open this in a new tab since otherwise the link will take you away from this site.